Hi All!
I lost 1 pound, but its says 3.4 right? Well my beginning weight was 136. I was using my New Rebel Ti3 during first weigh in and when I stepped on without a fatty camera...it said 136. So anyways. There you go. All honesty here, because if i lied to you, Ill be lying to myself.
Second week of Friday Fit Club and I have been working my ass off. I may only lost a pound but I can see some results. I think what helped me the most is with my diet. I used portion control and actually worked out.
I am using the P90X program again. I'm still winded because I am out of shape but retaining the steps is much easier this time around, than when I first attempt it in January of 2012.
So the topic for this week is,
what's the best workout/nutrition advice that you have given that you still follow?
Well best workout is to actually workout. A good diet is great, but working out along with it, gets you the best results. So what's yours?
My Fitness Goals are:
1) Get in Shape, build endurance.
2) Lose 20 pounds...(I weigh 136 right now, so shut it)
3) Run at least 1 Half Marathon Race (13.1 Miles)
4) Shrink my Cup size....heee.
5) Do Swats Swats Swats
3 ways I am going to motivate myself:
I am going to motivate myself by
1) Stalking hashtag like #skinnybitches, #fitfam, #fitspo on IG.
2)workout at least 3 times a week.
3) Cook and Eat my own food.
4)Make a collage of how i want to look like.
5)Post every Friday, so i dont look like an idiot for not falling through.
This next weeks goal is to Run at least 6 miles, drink more fluids, and workout at least 4 days a week.
Now that you get the gist of it, grab the button below, get your goals
together, and link up!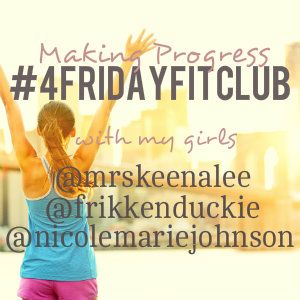 xoxo, K. Lee