Hello Fabulous Fit Friends...
01/10/14
01/17/14
01/10/14
01/17/14
So looking at the scale...still no big progress on it, but visually in the mirror...Yes! The soreness all over my dang body...Oh Yes! The slight lift of my booty...Hell Yes! It can get discouraging when the scale lies to you but they dont see the muscles that are growing and the fat is going. I must say, that I am proud of myself for making the effort to exercise on the days I feel the shittiest. I eat pretty good, considering that I do want to shove Taco bell's MuchoGrande Sized nachos down my throat (DO YOU REMEMBER THOSE?...BRING THEM BACK, TACO BELL!!). All in all, this week has been a good week for me.
So I know I am on the steady balance in the Fitness department, but are you? How are you guys doing? It can get rough right about now, and you might be feeling withdrawal symptoms...(if your are going hard core on your diet).
So this Friday Fit Club's topic of the week is
Inspiration
brought to you by
Nicole
from over at
Life in the Boys' Locker Room
. Go Check Out her
Post
, and also give
her blog
some love.
Lets pull through this week by finding your inspiration! I believe that anyone can get to their goal if they have support and motivation behind them! If you dont have that...believe in yourself...or ask me to be a workout buddy...I can bug the shit out of you from Cyber Space...trust me...dont you dare, test me! (sorry, i can become a drill sergeant when I get pumped!)
Well have a great weekend FFC members and lovely visitors out there! Love,
@Mrskeenalee @frikkenduckie @nicolemariejohnson #4fridayfitclub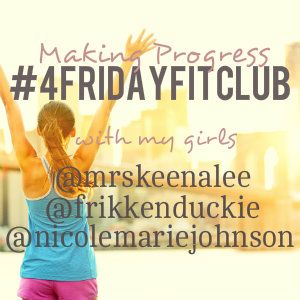 xoxo, K. Lee