Hello Everyone!
So I'm getting pissed that some lazy biotches are instagraming negative ecards about people who wants to do the whole "New Year, New Me" thang. What the F! Why put negative vibes/thoughts into people minds, if they want to just do that? is it hurting you personally? Freakin debby downers! Quit being a hater and stop drinking the haterade, because you cant comprehend that people want to be happy. #STFU! If you're one of them, #sorrynotsorry. Boom. haha.
Go for it boys and girls, ladies and gents! More power to you. Yes, we mentally want a smokin body, especially beginning of the new years. I am all for counting down the days til summer, where our wishful thinking of getting 6 pack abs turns into reality by MAY/JUNE. Even if the motivation is for 1 month, 1 week, 1 day....at least you did something good for yourself.
So anywho, I was texting and emailing my gorgeous friends
Nicole
and
Duckie
on New years day and we vant to have a Friday Fit Club. One day out of the week to motivate one another from cyber distance. Don't we all need that extra
shove
push, once in a while? Anyways, 2 members...3 members, or 4...lets get er done! Duckie had some coffee so that girl was on a roll when it came to coming up with some ideas.
So I'm gonna be that one Cheesy ass friend that's gonna
make
ask you what your fitness goals are for this year! I mean, Come on...good things has to happen on a year with a even number...writing 13 all last year made my eyes twitch. Haha.
Here's the deets for the Friday Fit Club:
Sounds so cool and exclusive, right? Like those super trendy and expensive gyms that you know you'd still never go to even if you joined. Well, our club is not like that. It's cool and hopefully soon-to-be super trendy and EVERYONE can join. For free.
1. YOU set your goals. We are not all at the same fitness level and we don't all necessarily want to "lose 10 pounds in 3 weeks" so you have to figure out what you want and what's do-able for you. So, first figure out what your goal is for the year, then break it down by month, and finally by week. It sounds confusing, but its really just like a chart.
2. Alright so once you've got it planned out, it's time to put that plan into action! Every first Friday of the month, post a picture of your current self as well as your first Friday photo from the previous month to do a monthly comparison. In your post, include your goal for that month and your mini-goal for the upcoming week. Here's an example:
My goal this month is to start building some muscle so this coming week I plan to do 20 push-ups, 50 squats, and 1 hour of pilates every day.
*See, it doesn't have to be an entire blog post, you don't even have to have a blog! Just link up your Instagram photo, Facebook status, tweet, etc.

Be sure to also post a new picture of yourself every Friday during the month along with an update on your goals for the next week. This makes it easy for you to keep track of your plan and progress and gives us something to look forward to seeing and reading! We're all about support here!
3. We give credit where credit is due, so be sure to link up your posts every week. Also, please feel free to post your progress photos or any photos that are fitness related throughout the week on Instagram, Twitter, Facebook, etc. using hashtag: #4fridayfitclub.
4. At the end of every month, my co-conspirators and I will get together and select ONE amazing Fit Fox in our monthly roundup. That person will win a sweet little prize and will be entered to win our end-of-the-year Friday Fit Club prize pack! Trust me, it's a good one! In order to qualify for the Fit Fox of the month, you must have posted each week during that month.
5. BOOM! That's it. So get your goals together and start taking those progress photos for a chance to win this month! And hey, there are only 12 months in a year, so if you win one month you've got a pretty good chance at getting the prize pack too!
6. This is not a requirement, more like a bonus boost, but if you'd like to motivate yourself even MORE, you can join in our Fit Fund. Just a little friendly competition in which each participant contributes $5 to the fund. Then after 2 months, the person with the most progress wins the whole she-bang. And of course, we start all over again for the next 2 months. If you'd like to join in our Fit Fund, email Duckie at frikkenduckie@gmail.com with the subject: FIT FUND.
Now that you get the gist of it, grab the button below, get your goals
together, and link up at Frikken Duckie's Blog Post.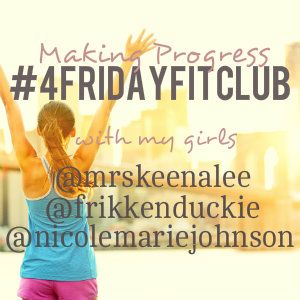 So Thanks so much for the interest and get going!! Have a great weekend!!
xoxo, K. Lee